It's Fiber Arts Friday! Can you believe it's week 18 of the year? I wondered if I would like this format to title my posts for 2014 but I'm going to stick to it...even if it shouts out that the year is flying by. Spring has sprung which means I'm in spring cleaning mode. I finally got up the nerve to take the official assessment of my WIPs and frog those that I don't feel love for.
I cast on the
Rockefeller
by Stephen West during Tournament 6 of Nerd Wars. I didn't get past the first section before I decided that my Wrap and Turns weren't very pretty so...after two years it's Frogged!
Cast on October 2012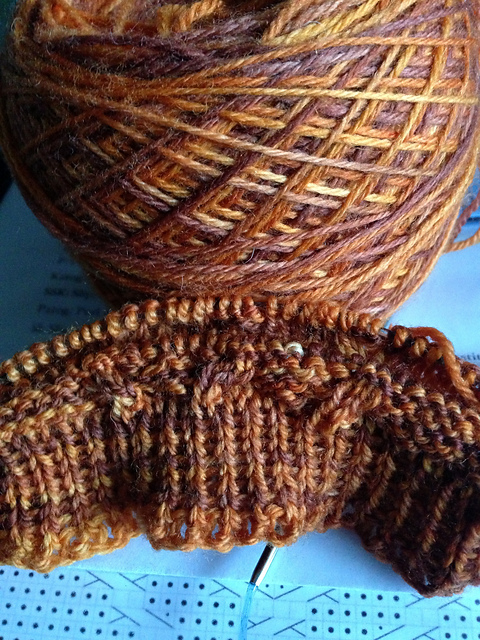 I cast on the
Eloina
socks in June 2013 for Tournament 8 in Nerd Wars. The cables got me before I got past the cuff so they sat and sat and sat until last night when they were FROGGED! I love this pattern and the yarn I picked. One day...I will get past my cable issues and make this socks (or sweet talk someone else to make them for me --It's been known to happen)
I cast on the
Casu Cowl
on a snowy day in February 2014. My first mistake was picking fingering weight yarn for a pattern that calls for worsted and my second was forgetting that I don't like knitting scarves flat. I do love the "in the round". My third mistake was the pink. I'm so not a pink knitter. Doomed and Frogged! I had made it to 26 inches. There is not way I was going to get 70 out of it. No way.
Another disaster with cables was the
Evanstar
mittens. Yes, I did complete one mitten. That single sock syndrome kicked in. My yarn from my herd with beautiful cables (if someone else is knitting them) The first mitten had some errors and I have finally found that place in my knitting where I don't want errors. ( I know, I know...I've grown so much as a knitter) Frogged! Yes, even the completed mitten is torn back...and it wasn't pretty.
I also found a couple of projects that never made it to Ravelry. Yikes! Frogged and Frogged.
Here is a photo of my recovered yarn, needles, notions and patterns. Yikes! Well, at least I know where all of my knitting notions and circs went. Yikes!
Now, I did keep a couple of WIPs which I intend to complete in the next month or so. I thought if I posted them here I might actually stick to them instead of letting them get lost on my Ravelry project pages.
- Cast on August 2010
- just needs sleeves and about 8 inches on the bottom. Seriously, the hard part is done.
- Cast on March 2014
- technically it's done but I didn't follow gauge so I need it wider.
- Cast on January 2014
- One mitt done, one to go. I do like this pattern, I just got sucked into shawls.
- Cast on March 2014
- These were supposed to be baby shower gifts. The boys are probably too big for them. One hat done, one almost done (using yarn I hate) and all that is left are the spikes. I shall finish them and gift them anyways. I knew there was a reason I don't knit for babies.
- Cast on November 2013
- One mitt done, I will get the other completed. It's my handspun and they do look sassy.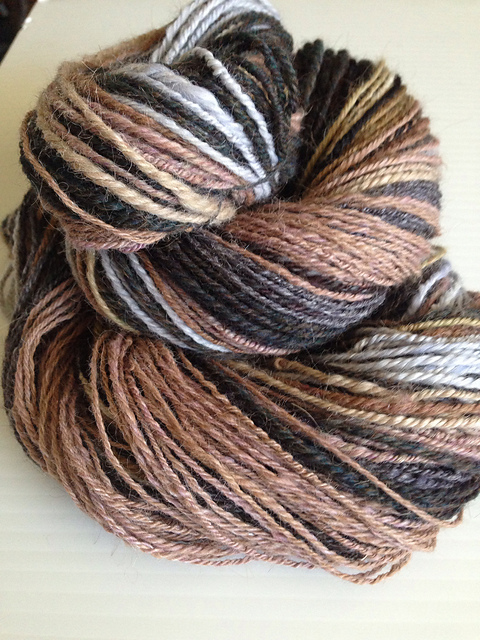 It looks like I have some knitting in my future. I did manage to complete something this last week. My latest handspun is a mixture of most of the roving blends I've created during the last few years. I will keep this yarn for myself. It's a 3 ply yarn, 216 yards.
I've started another Alpaca blend on my wheel too. Goodness knows I need breaks from the WIPS...sometimes a couple of year breaks ;-)
Now, share your adventures in Fiber Arts!
Fiber Arts Friday !
To participate:
Submit your blog article using your current blog address NOT your complete blog i.e. you would submit
http://wonderwhyalpacafarm.blogspot.com/2010/02/e-i-e-i-doh.html
http://wonderwhyalpacafarm.blogspot.com
Link back to Fiber Arts Friday from your post
so that your readers can come and see everyone else's projects! Text link to
WISDOM BEGINS IN WONDER!
Visit as many of the other participants as possible and leave comments! That's what helps us all

connect!
Check out these wonderful blogs